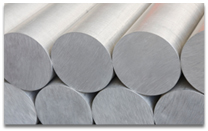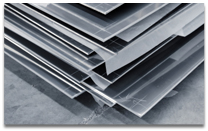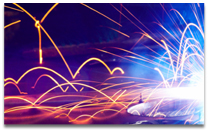 We specialize in Titanium sheet, plate, bars, tubing and weld wire. We stock a huge inventory, ready to ship out immediately. In most cases we take orders and ship them out the same day. Please browse our online catalogue. We list it all out for you with prices, so you don't need to guess at your cost. We carry most of our sheet, plate and solid bars in our California facility. We stock most of our tubing and weld wire in our facility located right near the Ontario & New York border. We sell our tubing and bars in increments of 6", so whether you need two feet or two hundred feet, we can meet your needs. We supply both production quantities and small quantities for prototypes and hobbyists. So if you only need a small amount of material to get a sample product to market, we have a very low one piece minimum order policy. That way you can get your required material without being bombarded with too much excess waste and expense. Once your product takes off, we would be pleased to supply your larger quantity orders. If you have any Titanium requirements, please do not hesitate to drop us a line. We would be happy to stock the size that you use on a regular basis. Just let us know what size and quantity you need and roughly how much you would use per month or per year. We may have several other customers wishing for the same material and we may begin stocking it as a regular item. Please also let us know if you have surplus Titanium you are looking to sell. If it is an item that we can use, we can offer you above market prices.
Titanium Joe.....great material.....great selection.....great prices.....fast shipping.....great service.
Let us help you get your project off the ground.
If you are unhappy with our products or service, please tell us why. If you are happy, please tell others.
Shipping Policy
We ship orders out Monday to Friday with Fedex economy / ground service (except for holidays). We follow the Fedex restrictions and guidelines. (Certain delivery services may not be available to certain areas of the world). We can also quote and ship via Freight truck upon request.
Our Fedex quotes are rounded up to the nearest $5 to cover our handling and packaging costs. For our standard packaging, we use cardboard, shrink wrap, clear tape and fiber tape. If special crating is required, then that will also be included in the shipping quote. Our Fedex daily pick-up is at 4:00PM Eastern Standard Time. Orders placed early in the day, usually get shipped out that same day. If your package doesn't go out the day it was ordered and paid for, then we will do everything possible to get it shipped out the very next business day (except for items on backorder or orders requiring special crating or other extra services).
When we create your Fedex label, we input your email address so that you will receive an email notification from Fedex with your tracking numbers. If a package is lost or damaged in transit, we will need to be notified immediately. A claim will be submitted to Fedex and we will replace the item(s) if possible. If we cannot replace the item(s), we will send a refund for those item(s). Sorry, we do not offer refunds for late deliveries.
*** NOW OFFERING PRICE MATCHING***
If you receive a lower quote please let us know.
Titanium Joe Inc.
1407 John Counter Blvd. Unit 90-B
Kingston, Ontario, K7K 6A9
315-285-4414 (USA) 905-556-0289(CAN)
613-545-0563 (Local Kingston)